It is "crystal clear" that drunk people are unable to socially distance, the chair of the Police Federation said as pubs reopened on Saturday.
Ministers had urged caution ahead of hospitality venues reopening in England after three months of lockdown.
John Apter dealt with "naked men, happy drunks, angry drunks, fights and more angry drunks" on shift in Southampton.
But police thanked the majority of people for acting responsibly as they enjoyed the night out.
Hundreds gathered in London's Soho district, with images showing packed streets into the early hours of Sunday.
The Metropolitan Police said that there were "no significant issues" in the capital.
Devon and Cornwall Police received more than 1,000 reports, most of which were "drink-related".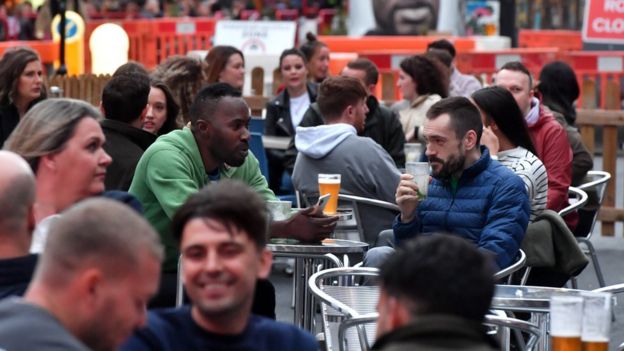 In north Nottinghamshire, four people were arrested and several pubs decided to close after alcohol related anti-social behaviour.
While people were out in droves at thousands of venues, fears emergency services could be as busy as New Year's Eve appear not to have been realised.
But Mr Apter, from the Police Federation, an association for police staff in England and Wales, said: "What was crystal clear is that drunk people can't/won't socially distance.
"It was a busy night but the shift managed to cope. I know other areas have had issues with officers being assaulted."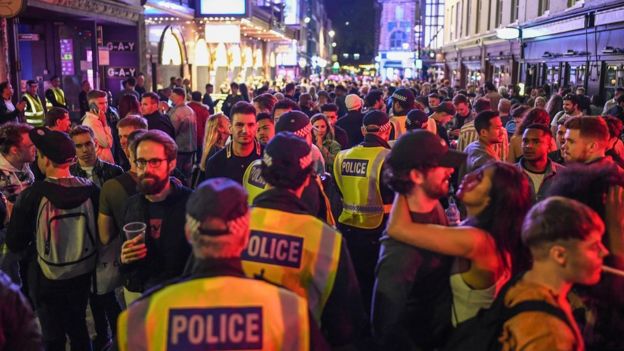 Addressing concerns raised by Mr Apter, Health Secretary Matt Hancock said people had largely acted responsibly, saying the "vast majority of people are, I think, doing the right thing".
He told Sky News' Sophy Ridge: "Overall I'm pleased with what happened yesterday, it was really good to see people out and about and very largely social distancing."
Rob Moore, paramedic at the West Midlands Ambulance Service, told BBC Breakfast it had been a "really average" night shift in his area.
"We were really prepared for a sudden upsurge in calls related to people being out drinking but it hasn't happened thankfully," he said. "Hopefully it's a sign people have heeded the advice and had a sensible night."
Also Read: Coronavirus: England lockdown easing 'biggest step yet', says PM