It's Saturday lunchtime and I am watching Sonic the Hedgehog in a cinema. It's fair to say that it wouldn't have been my first choice of film to break my four-month cinema fast (titles also showing at the Genesis in London's Mile End included Moonlight, Parasite, Memento, Do the Right Thing and previews of a forthcoming new release, Black Water: Abyss). But the nine-year-old got to pick and he reasoned that, since I missed it when it was first released, I absolutely must want to catch up with it now.
What's remarkable is how reassuringly ordinary the whole experience is. Online booking automatically enforces social distancing around your chosen seats. Not that that's an issue with our screening – there are only six other people here. There's a plexiglass screen between the box office and the punters, a roped-off one-way system, staggered start times and wall-mounted hand-sanitisers. Some staff are wearing masks. We are the only customers who choose to do so.
But otherwise, the atmosphere is almost relaxed. The concession stand, while not exactly mobbed, is selling its usual selection of sugary snacks. A regular wanders in and the staff greet him like an old friend.
Although cinemas were permitted to open in England from 4 July, actually finding one to visit proved challenging. By the middle of the month, there will be more choices, with a gradual opening of most of the Odeon chain, and a couple of Curzon cinemas back in business. However, Cineworld and Vue have postponed reopening until 31 July, a response to the rescheduled releases of Disney's Mulan and Christopher Nolan's hotly anticipated Tenet, now both bumped to August. The experiences of cinema operators in other countries suggest that audience return will be a trickle rather than a flood. Safety protocols vary from country to country – social distancing is obligatory in Rome, but "advised" in Paris; masks are required at all times in Hong Kong, and not at all in Denmark.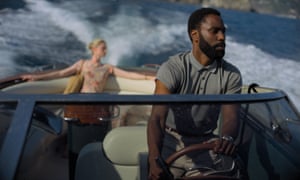 Back in the Genesis, and about 45 minutes into the film, there's a technical hitch – the kind of problem that happens when the projectors have been gathering dust for months.